Meet The Off Leash K9 Team
Matt and JourdaN - Owners
Matt and Jourdan began their time with Off Leash as clients after getting a rambunctious puppy. They completed a basic obedience package, and Matt was hooked on training. He then got a job as a trainer for Off Leash K9 Training Hampton Roads. Jourdan officially joined the team after Matt received the opportunity to become the head trainer for Off Leash K9 Training Bay Area and Fresno. They packed up their pups Duke, Ellie, and Brody, and headed from Virginia to California.

After a year of being head trainer, Matt is now the proud owner of both Off Leash K9 Training Bay Area and Off Leash K9 Training Fresno. Matt and Jourdan are proud of their growing team and grateful for the opportunity to help owners build a new relationship with their dogs. Having been clients first has given Matt and Jourdan a unique perspective of the importance of building a bond with your dog and helping them gain confidence and freedom through training. When they aren't training dogs, they can be found watching movies, hiking, or grilling in their backyard!
Moe Camarena - Head Trainer
Monique began at Off Leash K9 Training as a kennel technician and quickly became interested in becoming a trainer. After spending time learning as much as she could while training with owners Matt, Jourdan and the team she became a trainer and has enjoyed seeing the transformations and benefits of professional training for the dogs she has trained and the families who have benefited. Because of this she has become our head trainer and is passionate about training and teaching new trainers to love, enjoy and take pride in what we do.
Outside of work Monique, is a busy mother who loves to have her daughter join her for training opportunities with the pups and is passionate about fitness and weightlifting as well.
Brandon began his journey in the world of professional dog training after years of working for major companies like Coca-Cola and Tesla. He knew that he wanted to find a job that would allow him to pursue his passion for animals and get to spend more time being around his three dogs. He loves being able to bring his two german shepherds and his great dane to work with his clients' dogs and show them how to be the best version of themselves!
When he isn't working with clients and their dogs or spending time with his dogs, he loves grilling out, live music, and spending time with family and friends. He enjoys having people over to watch NFL on Sundays and exploring wineries and breweries with his friends, and golfing! He has enjoyed being able to work with dogs and their owners to allow them to experience a whole new side of life with a dog!
Marissa Contreras- Trainer
Marissa began working with Off Leash as a part of our Kennel Technician Team. She quickly moved her way over to our training team after countless hours of shadowing and training to hone her skills. Marissa has always had a passion for animals! She always wanted to be a vet and spent time in the pet boarding and daycare industry before beginning her journey with Off Leash. Marissa is a mother to three beautiful children. Her daughter and two sons love to spend time with her by hiking, playing board games and video games, and doing arts and crafts together!
Marissa is sure to carve out free time for herself on top of being a full time trainer and a full time mom! During that free time, she loves to work out at the gym, play soccer, football, and other sports. She puts her entire heart and soul into each dog that she works with and enjoys being able to build lasting friendships with both humans and their animal counterparts! She always has a smile on her face and brightens up any room that she is in!
Chris began working with Matt and Jourdan after five years of working as a vet technician in both primary care and emergency veterinary fields. Before working with animals professionally, he spent eight years serving in the US Army. He has had animals his entire life and now enjoys spending his time working with his Weimaraner Waldo and cuddling his Maltipoo Cocoa. Chris enjoys hikes with his friends, family, and two dogs.
After long hikes, Chris loves having everyone over to host cookouts. He believes that building trust and friendship with animals is the most rewarding part of the job. For Chris, Training is more than an occupation.. It's a lifestyle!
Valerie Hill- Administrative Assistant
Valerie joined our team as a kennel technician. When there was a need for additional office support, she quickly rose to the occasion! Valerie has always loved animals, her favorite being a panda. She owns a Pit Bull named Truffles, and loves to spend time playing with her and having all the cuddles! When Valerie isn't working, you can either find her on a hike or antique shopping.

When she is in the office, she will most likely be spending her day answering your emails, and cuddling with your pups during their downtime!
Nolan Graff- Kennel Manager CA
Nolan joined the Off Leash Team after 6 years in the medical field. He has volunteered and worked with animals of all varieties since he was in middle school. He is currently majoring in Biochemistry at Fresno State University. In his freetime, he loves spending time with his Pit Bull named Zena, Corn Snake named Lance, Kenyans Sand Boa named Pumpkin, and his three chickens (Penny, Colette, and Tiffany).
He is also a percussionist and an award winning baker! He loves spending his time around animals and making sure that your dogs feel right at home while they are with us!
do you have questions for us?
Or Call us for a free consultation today!
About Off Leash K9 Training
Dog Trainers Who Are Recognized Around The World!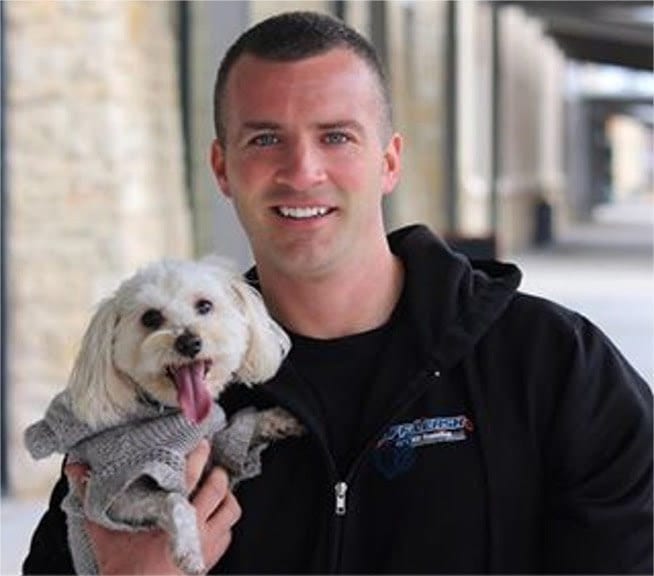 Nick White is the Owner and Founder of Off Leash K9 Training.  Nick is a former US Marine and former US Secret Service. He currently has over 130+ dog training locations throughout the United States. 
Nick is globally recognized as being one of the top dog trainers in the world.  He has 2 official world records in off leash obedience, named on Wikipedia as one of the top 20 dog trainers in the world, recently named top 10 trainer in the world by bestdogtrainers.org, has been featured in many magazines and shows, and he is regularly requested by the top celebrities and athletes! He has been called upon by people such as actor Ryan Reynolds, WWE's John Cena, MLB All Star Max Scherzer, UFC World Champion Jon "Bones" Jones, and many more!
You can visit our YouTube Channel and watch over 1500+ before/after videos of Nick and his team's work!  Off Leash K9 Training has more documented videos than any dog training business in the entire world!